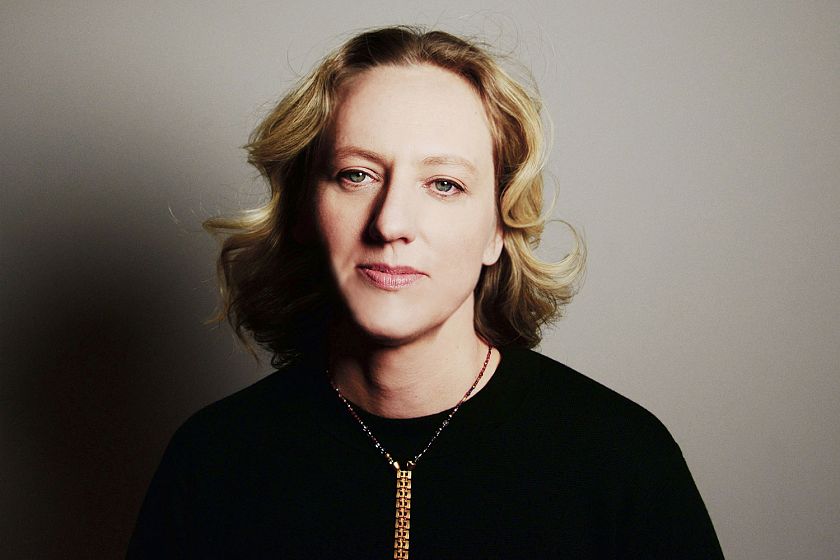 Ana Egge
Ana Egge
What's most immediately striking about Ana Egge's latest, Is It the Kiss, is its rich sonic coherence. Ana's at the center, but the term singer/songwriter doesn't cover it. This is much more than words and tunes — the whole is informed by her deeply-rooted musical intelligence. It's only because she defies category that she usually winds up in the folk bin, but from the beginning she's been inspired by the raunchy warmth and laid-back intensity of singers such as Etta James and Ann Peebles, while emulating the strangely sturdy crystalline quality, real and true, of Dolly Parton. As a guitarist, early on, Ana dug into the picking patterns and driving right hand of Big Bill Broonzy, Mississippi John Hurt, and Elizabeth Cotten, while also absorbing the swinging, behind-the-beat phrasing of Django Reinhardt. The country side of things is well represented on the album by pedal steel (Matt Davidson) and fiddle (Alex Hargreaves) and by the songs "Cocaine Cowboys" and her affecting duet with Iris Dement on a cover of Diana Jones' "Ballad of the Poor Child." But, actually, this is something of a soul record. The tracks are grounded by the Brooklyn indie all-star rhythm section of Jacob Silver and Robin MacMillan, the slow grooves are sweetened by horns like molasses (Cole Kamen-Green and Adam Dotson), and at the center of it all is Ana's guitar, which sounds like it knows something about how Steve Cropper and Curtis Mayfield could delicately, but determinedly, provide a sweetly beating funky heart. Plus there are alt-guitar flashes by Buck Meek (Big Thief), and the whole is pulled together by arranger/producer/instrumentalist Alec Spiegelman (Cuddle Magic).
In and among those grooves is the mind and heart behind Ana's song-stories. She says that writing slows her down, that she has to figure out what she's feeling, that she can write herself into an understanding, and that she feels a mystery to herself and the songs provide a window in. What we see through that window is an embrace of life in all its complexity and ambiguity. The heartbreak of "Teacake and Janey," the study in struggling and suffering that is "James," the western noir that is sketched in "Chasing Rabbits in the Sun" are all told with clear-eyed elliptic precision, without judgement, as part of the necessary sorrow of the world. It's a hard world she sings about, but not without hope. "Sometimes the work will be hard if it's ever gonna work at all." ("Hurt a Little") "Don't fall for anyone's reasons to hate someone. There's something in us that's never been lost." ("Rise Above") "How do we love? We dream of what could be." ("What Could Be")
On the making of Is It the Kiss, Ana says:
I wrote these songs in a bit of a fever. They came into being all in a rush. My wife and I have a five-year-old daughter and in many of the demos I made while writing these songs you can hear her and her friend running through the hallway, playing with their dolls. There's been a change in me in the past two years. And in many people I know. There's an uneasiness and a deeper need for connection. I've also felt the shift in my audience. People are listening like they never have before. I too, am listening. Like I never have before. That's where these songs come from.
Steve Earle has said, "'Ana Egge plays on a guitar she built with her own two hands and sings like she's telling us her deepest, darkest secrets." If soul is bearing up with gentle grace in the face of harsh realities, if soul can be possessed by a blond-haired, white-skinned, six-foot tall lesbian of Norweigian extraction — Ana's got it.
Ana Egge grabbed hold of her life as a musician early on — as a teenager, she built her own guitar and moved to Austin, TX to observe, absorb and take risks. The striking depth and unusual maturity of her singing, playing, and songwriting got her noticed, and she recorded her first album, River Under the Road (1997), with the legendary western swing band Asleep At The Wheel. The Austin Music Awards named her "Best Singer/Songwriter" and "Best Folk Artist." Over the ensuing years and nine subsequent CDs, Ana has made good on that promising debut. She has worked with producers Martin Terefe, Jason Mercer, Joel Plaskett, Steve Earle, and Stewart Lerman, and recorded full albums with The Stray Birds and The Sentimentals. Ana's last single, "We Are One," co-written with Gary Nicholson, has gathered over five million Spotify spins. RnR called her last album, White Tiger, "wonderful," and No Depression deemed it "nothing less than a balm for the soul." Now, in 2019, she has released Is It the Kiss, her eleventh album, a new batch of Egge originals of such singularly articulate and affecting honesty and sensitivity, as to once again deserve USA Today's accolade, "[Ana] can write and sing rings around" her contemporaries.
Ana Egge grew up with parents who "dropped out," choosing to raise four girls in a lovingly cobbled together combination of a small farmhouse on the North Dakota plains, a bus on the California Coast, and a hot springs commune in rural New Mexico, scraping together dimes and hand-me-downs. Ana learned that her life was truly hers to create. "We were always the outsiders," she says. "I was taught how to shoot a gun and how to enjoy alfalfa sprouts and tofu. I ran around barefoot and learned to ride a motorcycle when I was five. I grew up with all the time and space in the world." Given her unconventional upraising, it's not surprising that Ana has since been plotting her own journey, confident, fearless, and uncompromising. She's been around the horn of life's experiences, having forsaken the Great Plains for Sunset Park in Brooklyn, where she lives with her wife, Amy, and their five-year-old daughter, but she's never lost touch with the free-spirited childhood and the Western landscape that formed her.