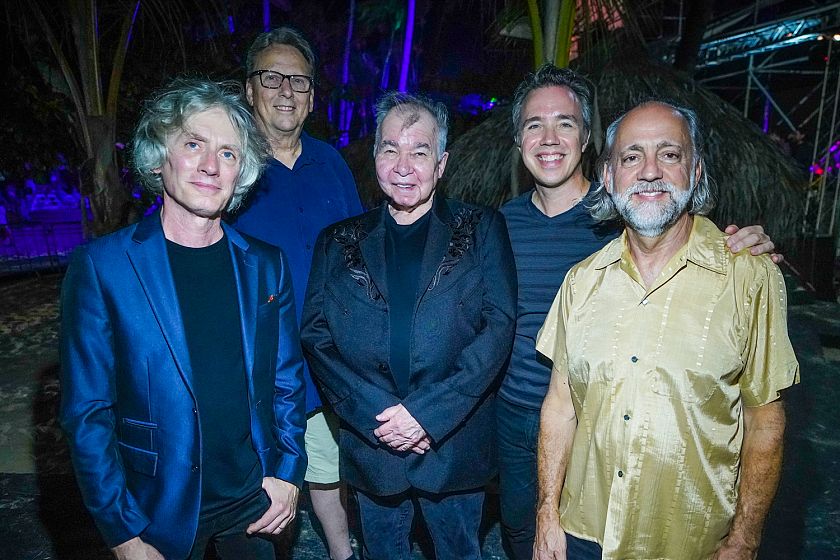 John Prine's Band
feat. Dave Jacques • Jason Wilber • Fats Kaplin • Kenneth Blevins
John Prine's Band
feat. Dave Jacques • Jason Wilber • Fats Kaplin • Kenneth Blevins
Dave Jacques
John Prine often introduced Dave Jacques as one of the hardest working musicians in Nashville. "Everybody wants him" says Prine, "I'm fortunate to have him on tour with me." As more of Prine's introductions go, Dave once worked in a shirt factory ("And now he's wearing one!")
When not on tour with John Prine he's playing back up with the likes of Steve Forbert, Nanci Griffith, Emmylou Harris, Lucinda Williams, Patti Griffin, Tommy Womack, Will Kimbrough, Amy Rigby, Greg Trooper, Elizabeth Cook, Jeff Black and so many more. ​​​
Jason Wilber
In Wilber's multi-decade journey with Prine, the Grammy-winning singer, songwriter, guitarist and producer has graced stages from the Grand Ole Opry to Austin City Limits, Seth Myers & Conan to Letterman & Colbert. And he's been a key player in high-profile collaborations with a host of legends including Lucinda Williams, Emmylou Harris, Alison Krauss, Todd Snider, Tom Russell, Miranda Lambert, Susan Tedeschi, Josh Ritter, Kacey Musgraves & more.
Fats Kaplin
Fats Kaplin is one of America's most original instrumental composers and the premier modern interpreter of string band blues, folk, country and world music. His music, full of mystery and life's rough edge is the equivalent of art's "Modern American Primitivism". He has been called upon to tour and record with hundreds of artists--Jack White, John Prine, Buddy Miller, Elvis Costello, Beck, Tinariwen, Colin Linden, his own Kane-Welch-Kaplin and countless others.
Kenneth Blevins
Born in Lake Charles, Louisiana, Kenneth Blevins is an American drummer and percussionist known primarily for his session work. Residing now in Nashville, Blevins has contributed to the work of many well-known artists including John Hiatt, Sonny Landreth, Lilly Hiatt , John Prine and many more.