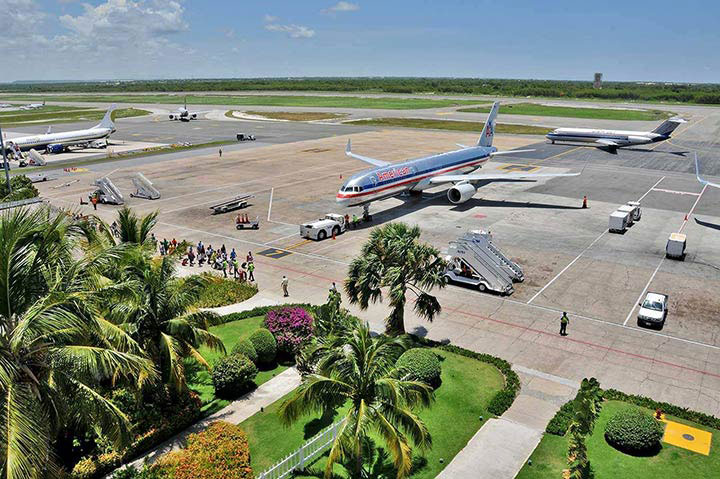 Punta Cana International Airport (PUJ)
Upon arriving at PUJ, all visitors must go through customs and line times can vary. The airport is approximately 40 minutes from the resort. After securing your spot for All The Best, your next step is to book your flight to Punta Cana! Flights are not included in your All The Best package but we will collect your flight information closer to the event to arrange ground transportation.
Guests should book their flights to arrive on May 19 and depart on May 23.
View Punta Cana International Airport's COVID-19 health and safety protocols here. From July 30, all passengers arriving in the Dominican Republic are required to present a PCR test that was completed within five days. Passengers who do not meet this requirement or show symptoms on arrival may be tested at the airport. All individuals who test positive will be required to quarantine as instructed by authorities.
Shuttles
Airport shuttles on May 18, 19, 23, and 24 are included in your All The Best package. Upon arrival at the Punta Cana International Airport, you will be seamlessly transported to our gorgeous resort. Sixthman will be requesting your flight details prior to the event to coordinate ground transportation.
Complimentary shuttle service from the Punta Cana International Airport to the Breathless and Now Onyx resorts is available for all guests arriving on May 18th and 19th and departing on May 23rd or May 24th. If your travel dates fall on any other dates, please contact our Guest Services team for assistance.
Our shuttle company, Amstar, is committed to the health & safety of their passengers along their travel journey. Read about their COVID-19 protocols here.
Breathless + Now Onyx Resorts
Playas Uvero Alto, Km. 275
Provincia La Altagracia , Dominican Republic
If you are arriving in Punta Cana early and renting a car, parking is available at no additional cost. The option to extend your resort stay at Breathless + Now Onyx is also available. More details about reserving additional nights before and/or after the event will be shared soon.
AMResorts 360-degree quality, safety and hygiene system takes into account every aspect of resort operations, backed by the highest-level third-party certification. They will be evolving and innovating our procedures continuously and will share the newest developments as they are implemented. View their health & safety protocols here.
Passport
At time of booking, you acknowledge that the laws that regulate the necessary travel documentation are subject to change and that it is your responsibility to be aware of what is required for travel.

All guests are required to carry a valid passport, not expiring within six (6) months of the return of your trip.

Please note that the name on your ticket must match the name on your passport or you will need to provide an original copy of proof of change of name (marriage license, etc).